STOCK BASKETS -ACMIIL'S ACES
WHAT ARE ACES ?
An ACE is a SuperNormal stock basket based on the Scientific Investing framework with an objective of enhancing safety and enhancing returns. Each ACE is designed to provide required equity exposure though portfolio of stocks of 10-12 different companies ranging from Small/mid caps to Large caps. These ACEs are managed by an Equity specialist team.
WHY DO I NEED ACES?
We have seen that most of the investors investing directly in the equity market take decisions based on poor research, gut feel or stock tips which is a highly unstructured manner of investing. This approach is not only risky but also guided by emotions and hence, does not help in generating long term wealth. The net result is erratic and sub-optimal equity returns.
STOCK SELECTION METHODOLOGY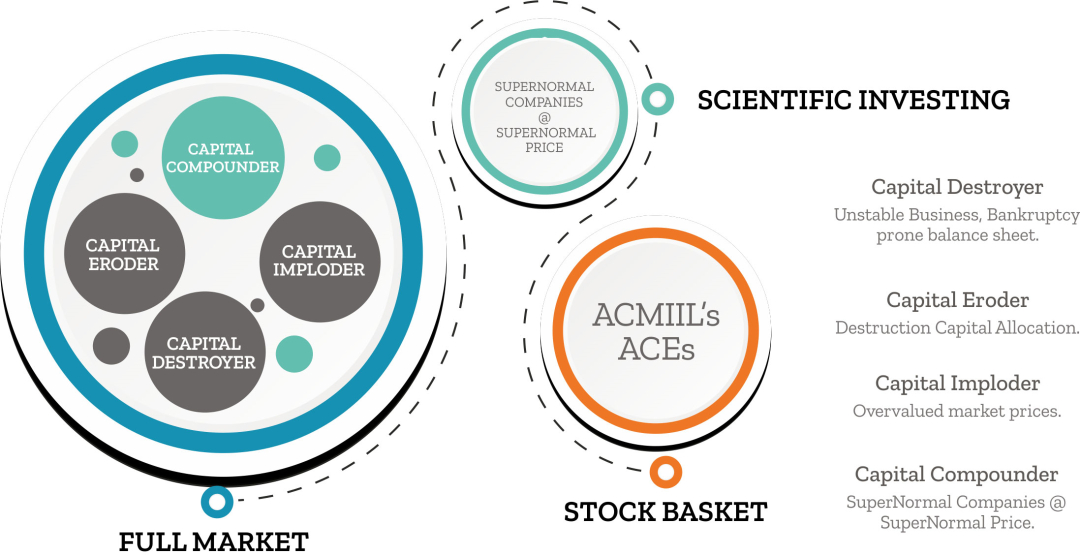 HOW TO SELECT A BASKET?
Based on your risk appetite a basket can be selected. In order to keep it simple we have just 3 types of ACEs (Stock Basket) namely ACE-LARGECAP, ACE-MIDCAP and ACE-SMALLCAP . This reflects the current market composition. You can also create your own basket ( in process)
Baskets can be purchased in lumpsum or in SIP. It is advisable to start an SIP so that there is regular saving habit and you can also average out the price by buying at different points of time in the market.
OUR BASKET
ACE-LARGECAP : 1. SuperNormal portfolio selected from the large-cap universe of Top 100 stocks . 2. The large-cap universe is a reflection of the Indian economy as it accounts for nearly 50% of the organized GDP of India. 3. 8 to 12 SuperNormal companies which are available at SuperNormal Prices and are regularly monitored and realigned by the equity specialist team.
ACE-MIDCAP : 1. SuperNormal portfolio selected from the Mid-cap universe of next 150 stocks beyond the top 100 stocks. 2. The midcap universe offers exposure to stocks which are next level industry leaders from a wide range of Industries. 3. 8 to 12 SuperNormal companies which are available at SuperNormal Prices and are regularly monitored and realigned by the equity specialist team 4. Portfolio can have higher volatility compared to Largecaps.
ACE-SMALLCAP : 1.SuperNormal portfolio selected from the Smallcap universe beyond the top 250 stocks. 2. The smallcap universe offers exposure to emerging leaders in their respective industries 3. 8 to 12 SuperNormal companies which are available at SuperNormal Prices and are regularly monitored and realigned by the equity specialist team 4. Portfolio can have significantly higher volatility compared to Large/Mid caps.
HOW TO BUY A BASKET?
Open an account with us, Register a mandate for SIP and our website offers easy link to buy the basket. Subsequent purchases of SIP are made automatically by us.
SAFETY
There is a higher element of safety since there is a scientific process involved in selecting the basket stocks. However just like any other equity investments it is subject to market risk
Stocks are not frequently replaced, but there is continuous monitoring and replacements done if a company is not performing on anticipated growth plan expected at the time of invetsment
LIQUIDITY
Highly liquid since frequently traded stocks are selected. However the shares are selected based on a long term horizon of at least 3 years.
OUR PERFORMANCE
| | | | | | | |
| --- | --- | --- | --- | --- | --- | --- |
| ACMIIL's ACES | Date of Inception | 1M | 3M | 6M | 1Y | Since Inception |
| ACE -LARGECAP | Friday, May 15, 2020 | 10.68% | 20.22% | 40.05% | | 58.19% |
| Benchmark (BSE 100) | | 8.04% | 23.78% | 35.44% | | 52.21% |
| ACE-MIDCAP | Wednesday, May 20, 2020 | 9.89% | 27.94% | 48.44% | | 71.37% |
| Benchmark (BSE Midcap) | | 6.07% | 22.01% | 37.43% | | 59.08% |
| ACE-SMALLCAP | Tuesday, May 26, 2020 | 12.45% | 19.36% | 45.67% | | 82.21% |
| Benchmark (BSE Smallcap) | | 7.25% | 21.73% | 46.18% | | 70.89% |
All Performance above are as of 31st December 2020.
Performance up to 1 Year is absolute and above 1 Year is CAGR
Disclaimer : Past performance is not indicative of future performance and future results. Above portfolio performances are post fees and Performance computed on model portfolio. The recommendations made by ACMIIL could be those that are based on its own research. Individual returns of Clients for a particular portfolio may vary significantly from the performance of the other portfolios. No claims may be made or entertained for any variances between the performance depictions and individual portfolio performance. Investments in securities market are subject to market risk, read all the related documents carefully before investing.
TERMS AND CONDITIONS
The client agrees to pay the fees calculated in the manner and on the rates as provided in the Schedule I which is mentioned in Commercial terms.
The Basket profits or returns would include any dividends, benefits received out of corporate actions.
All the costs, fees, charges as per schedule I and expenses of whatsoever nature incurred by us in connection with the acquisition, holding, sale and transfer, in respect of the dematerialized state charges of the Depository Participant, in respect of Securities shall be paid by the Client.
A new separate DP account is required for all investors for the basket investments. No Demat charges is applicable on second demat account.
For new and existing clients, the Demat account will be used only for stock basket and Investor is free to open separate Demat account for self managed investment.
During the course of investment, we will invest as close as possible to the basket amount. Some small surplus to be left due to rounding off that amount will be managed /invest/return to the investor as suitable.
The stocks in the basket will be as per the discretion of the ACMIIL. These stocks would be reviewed from time to time and the rebalancing, (if any), of the stocks in the basket would be at the discretion of ACMIIL.
You are free to exit basket wise or exit from all basket at any point of time. You are not allowed to selectively exit from any stock or add any stock to the basket.
In case of a bank mandate, we will need 20% more mandate of the basket amount as the stock price will fluctuate time to time. The amount taken from bank would be actual value of Basket.
The Client agrees that in the event of a dispute, the Claims, if any, by the Client cannot exceed the fees paid by the Client for the year for advisory services in Rupee terms.
The client agrees that in case of any dispute, the claim and/or disputes will be referred to arbitration as per the Rules, Bye-laws and Regulations of the Stock Exchange where the trade is executed and the circulars/notices issued there under as may be in force from time to time.
As a SEBI registered stock broker, we are permitted to act as an adviser. This product is part of our advisory activity.
COMMERCIAL TERMS
Schedule I
Fees Structure
Nature of Fees
Fees
Basket Fees
INR 100 per basket + GST (Charged upfront)
Advisory Fees (Second year onwards)
2% p.a+ GST (Charged upfront on Basket Value)
Approx Transaction Charges
0.13%
Note: In Basket fees and advisory Fees, GST will be recovered at the applicable rate.
Transaction charges includes STT, Stock Exchange charges, Stamp duty, SEBI Charges & GST
Fees Structure Example:
Suppose Client A has bought 1 basket for 36 months so he will pay INR 100 per basket as Basket fees for 36 months and from 13th month onwards he will pay Advisory fees for 1st basket as one year ends for the basket. So, after completion of one year the client A has to pay the Basket fees (13th month fresh basket) as well advisory fees (1st basket upfront Advisory fees for second year).
Transaction Charges Includes
| Heads | Rate |
| --- | --- |
| STT (Central Govt) | 0.1% on Transaction Value |
| Transaction Charges (Stock Exchange) | 0.0034% on Transaction Value |
| Stamp Duty & SEBI Charges | 0.011% on Transaction Value |
| GST | 18% on Transaction Charges. |